Amanda Seyfried Flirts With New Beau, Justin Long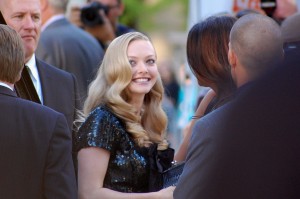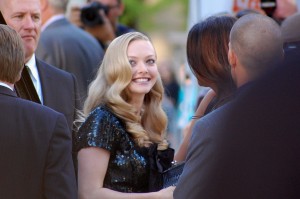 After some speculation, it seems that it is official, Amanda Seyfried is dating Justin Long. The acting duo unveiled their relationship at the premiere of Amanda's new movie 'Lovelace', with plenty of flirting and cute public displays of affection.
Justin, who has previously dated Drew Barrymore, has been known to be very private when it comes to his love life, but that didn't stop him from gushing about Amanda's performance on Twitter: "Adjectives don't do justice to Amanda Seyfried's fearless and transformative [performance] in Lovelace. Though I would've been better. Just go see it."
Justin joined Amanda at the premiere and a source revealed that they were very close: "…they were just inseparable during the event. He hung out when she talked with others."
In 'Lovelace' Amanda stars as adult movie actress Linda Lovelace, best known for her role in pornographic film 'Deep Throat'. The role required Amanda to strip down for the camera, but it ended up being a positive experience: "It's funny, because I felt liberated when I was doing it. I'm sure people that are very protective of me wouldn't be comfortable with that. But it's like, what's the big deal."
Good luck to Amanda and Justin and their new relationship.
Read the full story on Hollywood Take.
For more flirting fun and a cheeky giggle or two, check out our Facebook Page.