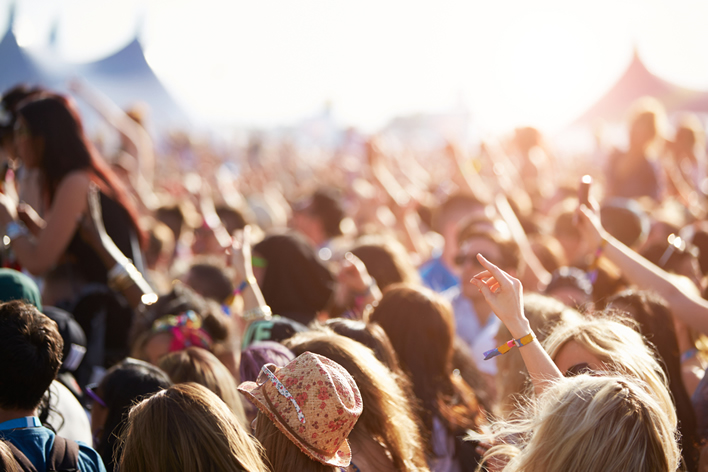 Music festivals are one of life's great pleasures. With a laid-back vibe, happy people and fantastic music, festivals are an amazing place to meet someone new and make a romantic connection. Instant bonds are formed over a shared love of the same bands, and inhibitions are lost as the drinks flow and bodies bump and grind in enthusiastic dance.
So how do you make a festival work for you romantically? Get your festival flirt on with these festival flirting tips.
They're My Favourites Too – If you see someone you wouldn't mind getting to know better wearing the t-shirt of a band you're familiar with, you have the perfect conversation starter. Approach them and open the lines of communication by telling them how much you love the band too. It's good to see someone else with such good taste! Once you have a foot in the door, ask them if they'd like to grab a drink with you. The queue for the bar is sure to be long, which means plenty of time for more chatting and flirting. Connection made!
Hold My Spot – You can kill two birds with one stone here. By asking someone to hold your spot while you go to the toilet, you get to keep that ace place AND it's an excuse to get talking to someone new. Since they've done you a favour, you might offer to do one in return. Perhaps buy them a drink or offer to buy them dinner when all the action is over. What do you have to lose? If they say no, festivals usually cover a wide area, you'll probably never see them again.
Lock Those Eyes – You can use some of your everyday flirting moves at a festival. Think about it. Festivals are really a giant nightclub, but with a more relaxed atmosphere. So whilst dancing the night away to your favourite band, make subtle eye contact with your crush to show your interest. And don't forget to smile. An intense non-smiling stare through a big crowd is sure to send out some seriously creepy vibes though.
These three little tips should definitely help you get your festival flirt on and make some new connections.
Check out our official Facebook Page for a few laughs and new people to meet.