It's An Untapped Resource – Flirt At The Bookstore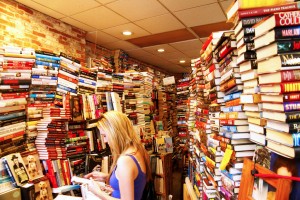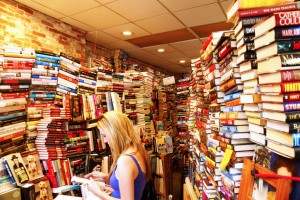 Believe it or not the bookstore is a great place to flirt and meet someone new. It is a low pressure environment, the conversation opener is right there in front of you and the person of interest is often on their own browsing the bookshelves. But, like flirting in a club or at the gym, there are some guidelines that you should follow…
Don't Interrupt – If that bookstore hottie is busy, whatever you do, don't interrupt with an inane comment. Instead mention that you have been thinking of reading the author they are checking out, and ask for a recommendation. Offer to thank them for the advice by buying them a coffee, what do you have to lose.
Don't Act The Intellectual – Just because you are in a bookstore, this doesn't mean that you have to act all aloof and serious. It is okay to smile and laugh and have fun – exciting and fun-loving people read books too.
 Be Who You Are – Your book choice may not be not the highest of high brow, but that doesn't mean you should be embarrassed. If you like to read a little bit of trash now and then, make a joke of it and ask for a recommendation for something better. If the person your chatting too make s you feel bad about your book choices, then move on as they are not worth you attention.
Focus On Them – Yes you're in a bookstore, but that doesn't mean it has to be all about the book. Use their interest in literature as a way to learn more about them. Ask them what else they like to do in their spare time, before you know it the conversation will really be flowing and you may even get those magical digits.
Fancy A Coffee – If there isn't a coffee shop within the bookshop itself there is sure to be one just a minute away. Take a chance and ask them to join you for coffee to have a little flick through your new books…it could lead to a fairytale ending.
So go on guys and girls, flirt in the bookstore and write your own romance novel.
Read the full story on Lauren Leto's Huffington Post Blog.
For a little bit more flirting fun, be sure to visit our Facebook Page.