Liam Hemsworth Flirts Up A Storm At A New York Bar – Take That Miley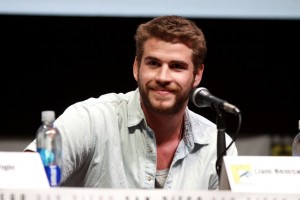 It may be less than a month since gorgeous actor Liam Hemsworth split from attention-seeking singer Miley Cyrus, but he isn't wasting any time moving on. You can't blame the poor guy, it wasn't as if Miley showed her devotion to Liam when they were together, she was too busy 'twerking' against the nearest male.
So when the Aussie actor was in New York, he was putting Miley firmly out of his mind by flirting with some of the local hotties. While in the city, Liam went to the trendy sports bar Ainsworth park with a group of friends that included fellow actor, James Marsen. After a few rounds of beer, the boys really decided to let loose and brought on the tequila.
It wasn't just the drinks that Liam was interested in, he spent plenty of time at the bar flirting with two attractive strangers. So did Miley like her ex taking a leaf out of her book? A source says no: "Miley is extremely angry. She's saying she doesn't care about Liam, that she's better off without him…But the truth is she's pretty devastated. Miley totally believed that…she and Liam would work it all out. She thought he was her soul mate. Him just walking away like this and not fighting for her, is heartbreaking."
Has Miley realised too late what she has lost? Do you think she would have behaved differently if she knew she would lose Liam? I'm not sure she would.
Read the full story on Pop Crush.
For more flirting fun why not check out our quirky Facebook Page.