Harry Styles Flirts With An Australian TV Presenter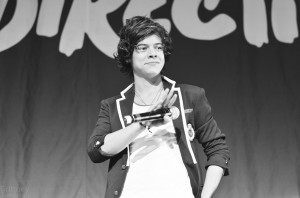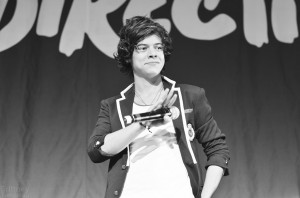 One Direction's Harry Styles in a notorious ladies man, despite recently admitting that he is fairly sexually inexperienced. No matter his level of experience, Harry just can't resist a flirt when in the presence of a beautiful lady.
The latest to be wooed by Harry's charm was Australian presenter of Channel 7's Sunrise, Samantha Armytage – you may remember she was also recently wooed by Russell Crowe. The 36-year-old presenter met 19-year-old Harry in the backstage area of Melbourne's Rod Laver Arena where she was to be interviewing the One Direction boys.
Samantha says if the encounter: "When he [Harry] walked in an kissed me on the cheek I though, 'Oh, hello'. He was very open and talked about women. He did say he didn't care about age. And there was a lot of flirting from him – and it wasn't just in One Direction. It went in both directions."
Samantha revealed that Harry was keen to see her again: "He did invite me for a round of golf. He is far too young. And I'm too old for him. I prefer older men. I'm old enough to be his mother." Even though she declined the young Lothario's offer, Samantha was still flattered by the attention, stating it was good for her ego that a strapping young lad was interested.
I bet Harry is not used to getting the brush off, but if he and Samantha had got together, they would join a host of other age-gap couples, like these…
Blake Lively and Ryan Reynolds – Ryan may be 11 years Blake's senior, but this didn't stop the pair from getting married in 2012. The age gap has worked well for them…so far, you never know what will happen in Hollywood.
Angelina Jolie and Brad Pitt – There may be a 12 year age gap between Angelina and Brad, but it hasn't stopped the gorgeous couple from having 6 beautiful children, as well as a happy relationship…who doesn't love Brangelina, well apart from Jennifer Aniston of course!?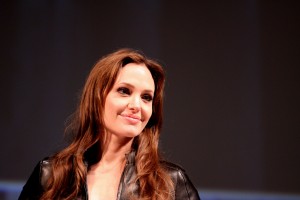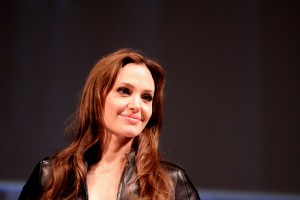 Rodie Huntington-Whiteley and Jason Statham – The gorgeous model and British actor hooked up 2 years ago and stayed solid since, despite a 20-year age gap. The couple currently live together in LA…could marriage be on the cards soon?
Catherine Zeta-Jones and Michael Douglas – There is exactly 25 years between Michael and Catherine, they both share the 25th of September as their birthday Even though Michael is old enough to be Catherine's father the pair have still been married for 13 years, despite their recent trial separation, which I'm sure they will overcome.
Woody Allen and Soon-Yi Previn – Probably the most famous age-gap couple ever, Woody caused a huge scandal back in 1992 when he started a relationship with his partner Mia Farrow's step-daughter Soon-Yi. Despite the scandal and the 34 year age gap, they have been married for 15 years.
Do you have a preference for older and younger men?
For more flirty gossip, please check out our official Facebook Page.